Whirling Dervish Ceremony In Silivrikapi Istanbul
Sufi Cultures & Whirling Dervish Ceremony in a Monastery
Idea : During this Monastery visit & Dervish Ceremony; you will see the story of Sufism, Sufism and their communities in Istanbul, Turkey, today. You will meet the Sufi community and their monastery, listen to their music, eye-witness the Whirling Dervishes Ceremony. The ceremonies are presented every Thursdays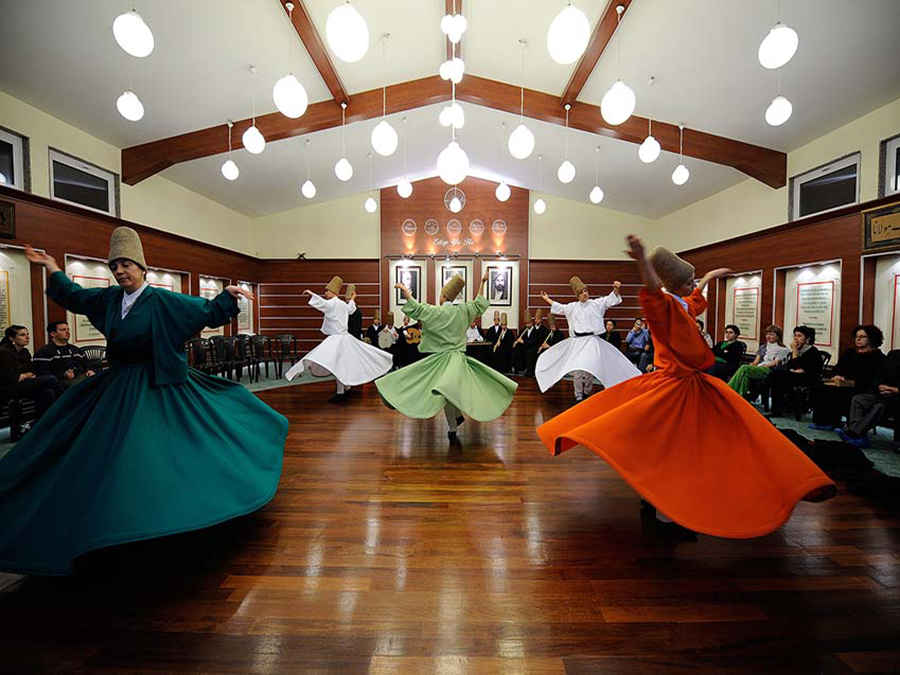 Zikr – Meditation
Known to the west as Whirling Dervishes, the Mevlevi Order was founded by Mevlana Rumi in the 13th century. The Order wrote of tolerance, forgiveness, and enlightenment. They survive today as a cultural brotherhood. They are not theatrical spectacles but sacred rituals. The ritual of the Mevlevi sect, known as the sema, is a serious religious ritual performed by Muslim priests in a prayer trance to Allah.
Ilahi – Sufism Music
Mevlevi believed that during the sema the soul was released from earthly ties, and able to freely and jubilantly commune with the divine. Dervish literally means "doorway" and is thought to be an entrance from this material world to the spiritual, heavenly world. The Whirling Dervishes played an important part in the evolution of Ottoman high culture.
Whirling Dervish Ceremony man and woman together
From the fourteenth to the twentieth century, their impact on classical poetry, calligraphy and visual arts was profound. Rumi and his followers integrated music into their rituals as an article of faith. Rumi emphasized that music uplifts our spirit to realms above, and we hear the tunes of the Gates of Paradise.
The ceremony is in a real monastery in on Thursday evenings
Meeting time is 20:00 pm in our Travel Agency and Art Gallery located in Sultanahmet !
LOCATION of our Gallery :
http://www.istanbullife.org/about-us/
PER PERSON Fee is : 28 EURO or 31 USD
RUSSIAN LANGUAGE ;
Церемония Кружащихся дервишей в настоящем суфийском монастыре Стамбула.
Суфийская Культура и Церемония Кружащихся дервишей в настоящем текке (обитель дервишей)
Идея: во время этой церемонии посещения текке (монастыря дервишей) вы узнаете историю суфизма и суфийских общин в Стамбуле, а также познакомитесь с радицией суфийского ордена Мевлеви в современной Турции. Вы встретитесь с членами суфийской общины и их шейхом, послушаете их музыку, станете свидетелем Сема – церемонии Кружащихся Дервишей. Церемонии проходят по четвергам.
Церемония проходит в настоящем текке в четверг вечером
Время встречи 20: 00 в нашей художественной галерее, расположенной в районе Султанахмет !
Как можно принять участие?
Вы можете отправить заявку на посещение церемонии, позвонив нам
( 0090 533 738 58 62 ) или по электронной почте: E-MAIL
Адрес галереи и места встречи участников :
Контакты : Mr. Hakan HACIBEKIROGLU
( Телефон : +90 533 738 58 62
Прежде чем мы отправимся из галерени в Султанахмет, мы проведем небольшую беседу в форме лекции в течение 5-10 минут. Вы узнаете о церемонии Сема, Суфизме и его роли в Исламе. Если у вас есть какие-либо вопросы, мы можем ответить на них до или после церемонии. Мы также предоставляем брошюры о программе вечера в обители дервишей.
Дресс-код : одежда с длинными рукавми, длинные брюки или юбки. Это религиозная церемония в суфийском монастыре, а не туристическое шоу, поэтому, пожалуйста, уважайте местные традиции.
Фотографирование: По Понедельникам фотосъемка не разрешается. По четвергам можно фотографировать без вспышки, не нарушая атмосферу монастыря.
** Пожалуйста, обратите внимание, что могут быть небольшие изменения во времени начала и длительности церемонии из-за часов молитвы.
** Кроме того, мы принимаем ограниченное количество гостей в текке (монастырь), чтобы не нарушить атмосферу спокойствия, пожалуйста, присылайте нам заявки на посещение по электронной почте заранее. (E-MAIL)
Для групповых запросов о нашей группе Sufi Dance & Sema в ваших странах или в специальных организациях, пожалуйста, отправьте нам электронное письмо. e-mail
Для получения информации о неделе памяти Руми (Mevlana) в Конье, пожалуйста, отправьте нам письмо по электронной почте. e-mail
** Please note that there may be a little time changes and flexibility on the ceremony due to the prayer hours. Please send us an E-mail  to learn the exact times.
** Also we are taking limited numbers of guests to the monastery in order not to disturb the ambiance soo please send us an E-mail in advanced.
** Before the ceremony we can give you a brief information about the Sufism & the Whirling Dervishes.
If you are interested please send us an E-mail for reservation.
** For the group ceremoy inquiries about our Sufi Dance & Sema group in your countries or in special organisations, please send us an E-mail
** Alternatively we also arrange weekly tours to Konya in Mevlana Week in every december.
For information concerning the Mevlana Week in Konya, please send us an E-mail
Also If you are more than 30 people we can organized this special ceremony on MONDAY in Silivrikapi Monestry …
How to be Dervish in Istanbul Konya Turkey
Here you can see our others Whirling dervish Tour in Istanbul
1 – Hodjapasha Cultural Center in Sirkeci
2 – Real Whirling Dervish Ceremony in Silivrikapi Culture Center
3 – Sirkeci Train Station Whirling Dervish Show
PER PERSON Fee is :  28 EURO or 31 USD
Keywords : Whirling Dervish Ceremony in Istanbul,Dervish Ceremonies,Whirling Dervish,Sufi Dance, Hu, Semazen, Turning,Istanbul Derviches, Le Dervish, Mevlana Celalettin … Tekke,Monastery,Dervish Ceremonie in the monastery,Monaster,Silivrikapi,Silivrikapı,Fatih,Dergah,Ceremonie de dervish ,istanbul,Real Dervish Ceremony ,Dervish Ceremony in the Real Monastery Every  Thursday Nights at 20:00. meeting place is Sultanahmet. Shuttle Service from Sultanahmet to the monastery. In the end of the ceremony, return back to sultanahmet. About Whirling Dervish Ceremony in Fatih. Dervish Ceremony in the RealMonastery Every Thursday,Whirling Dervish Ceremony in the Monastery ,Dervish Ceremony,Whirling Dervish,Dervish,Sema,ceremony,ritual,Monastery,Visits,Dergah,Real Sufi,Real Dervish,Real Dervish Ceremonie,Ceremony,Real Dervish Ceremony,sufi,mevlevi,mevlana,Sufi whirling (or Sufi turning) (Turkish: Semazen) is a form of Sama or physically active meditation which originated among Sufis, and which is still practiced by the Sufi Dervishes of the Mevlevi order and other orders such as the Rifa'i-Marufi.While in Istanbul I attended a Sema Ceremony where Sufi whirling dervishes spin themselves into a trance-like state that brings them closer to God.