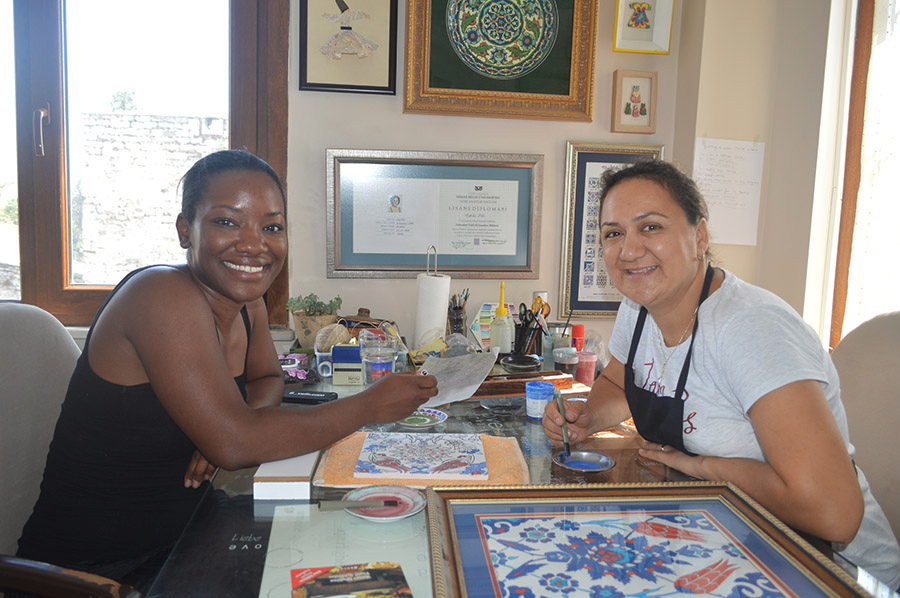 The art of Turkish tiles and ceramics have a very important in the history of Islamic art. Its roots can be traced at least as far back as the Uighurs of the 8th and 9th centuries. Its subsequent development was influenced by Karakhanid, Ghaznavid, and (especially) Iranian Seljuk art. With the Seljuks' victory over the Byzantines at Malazgirt in 1071, the art followed them into Anatolia and embarked upon a new period of strong development fostered by the Anatolian Seljuk sultanate.Traditional Turkish Tiles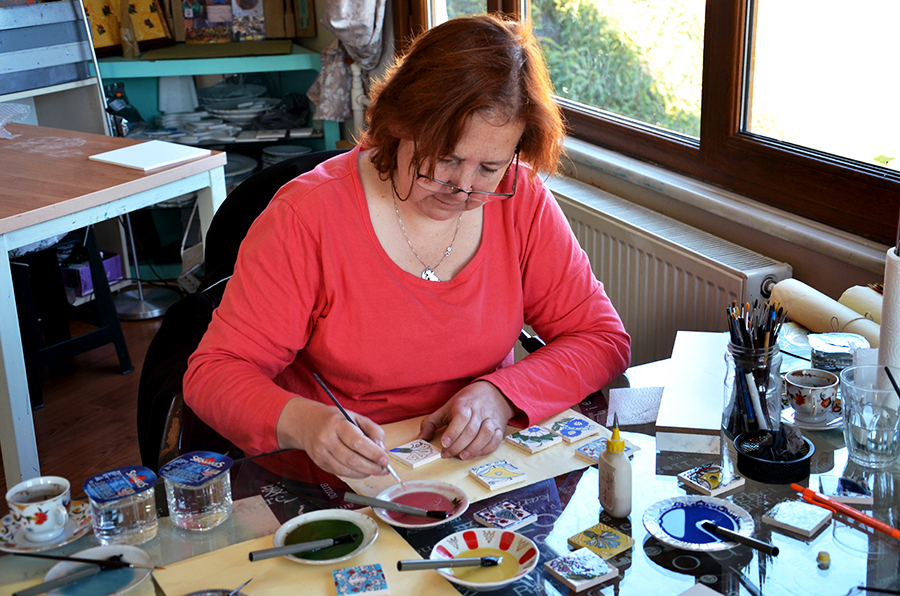 There is a widely held but quite erroneous belief that figurative painting, is not found in Islamic art due to prohibition by the Koran. Religious rulings issued only in the ninth century discouraged the representation of any living beings capable of movement but they were not rigidly enforced until the fifteenth century. Figural art is especially rich in tiles as well as stone and stucco reliefs of the Seljuk period, adorning both secular and religious reliefs monuments. The subjects included nobility as well as servants, hunters and hunting animals, trees, birds, sphinxes, lions, sirens, dragons and double-headed eagles.
Our Workshops :
We have an Art Studio in Sultanahmet area and our local teachers that are professional in Traditional Turkish Tile & Ceramics workshop. In our place, we give beginner, intermediate & advanced level of traditional Turkish Tile & Ceramic painting lessons. Usually lessons are 2 hours based and by the end of 2 hours, you will be able to finish one item like a tile, plate or a figure. ( Depending on the design, lessons can be longer as well )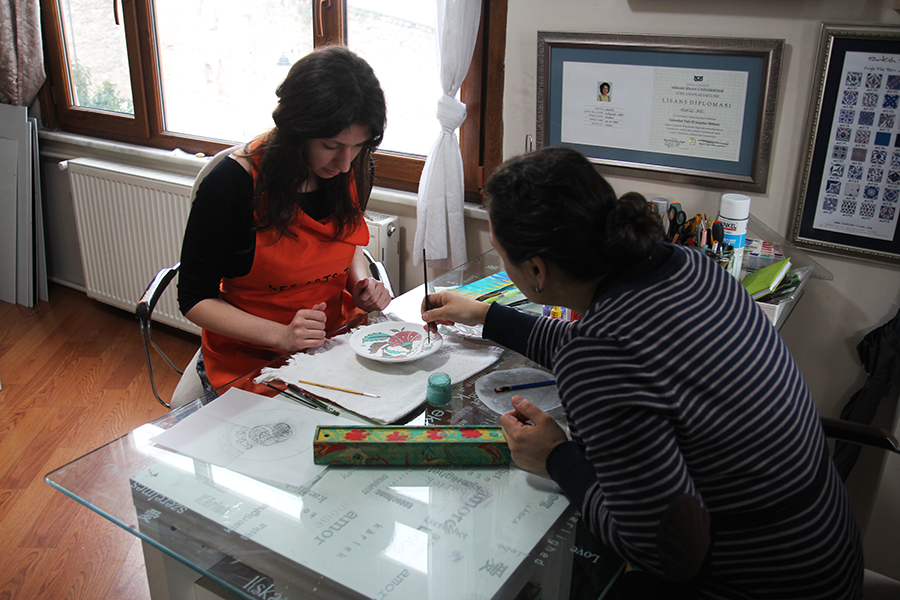 In our studio, we provide all the materials for our students.
We also have the Tile owen to finish the process.
( The price is for the lesson.. We fire our Kiln once or twice in a kiln..
If you have time, we will fire your tiles ang give you the ready product or we can ship it to you if you can pay the shipping cost. )
Group lessons for High Schools and Universities can be provided all year long.
Please send us an e-mail if you are interested in participating our classes as individual or a student group.
In our studio, you can visit us and see & purchase our art works.
Contact : Mr Hakan HACIBEKIROGLU
Whatsapp : +905337385862
E-mail : hakan_hacibekiroglu@yahoo.com
2 Hours Turkish Tile & Ceramic Workshop ( Per Student )

2 Guest

50 Euro

3-6 Guest

45 Euro

7 and More Guest

40 Euro

1 Guest

55 Euro

Lesson Includes.

These are private events and runs upon request.

English Guidance and assistance service.

Workshop area & equipments are included.

2 Hours workshop in our Studio.

Discount rates for groups.

Tours are made by Senguler Tourism – Istanbul Life ORG
Member of TURSAB Agency Association / A Licence: 4691
Google Map : https://goo.gl/maps/NzHjX2ERP1B2
Contact : Mr Hakan HACIBEKIROGLU
Whatsapp : +905337385862
E-mail : info@istanbulsahabatours.com
E-mail : hakan_hacibekiroglu@yahoo.com ( 24/7 Online )
Facebook : https://www.facebook.com/sahabevisits/
Instagram : https://www.instagram.com/sahabevisits/
TripAdvisor : https://www.tripadvisor.com.tr/Attraction_Review-g293974-d3735660-Reviews-Istanbul_Life_Cultural_Tours_Day_Tours_Senguler_Travel-Istanbul.html
Google Business Site :  http://islamic-tours-in-istanbul-and-turkey.business.site/