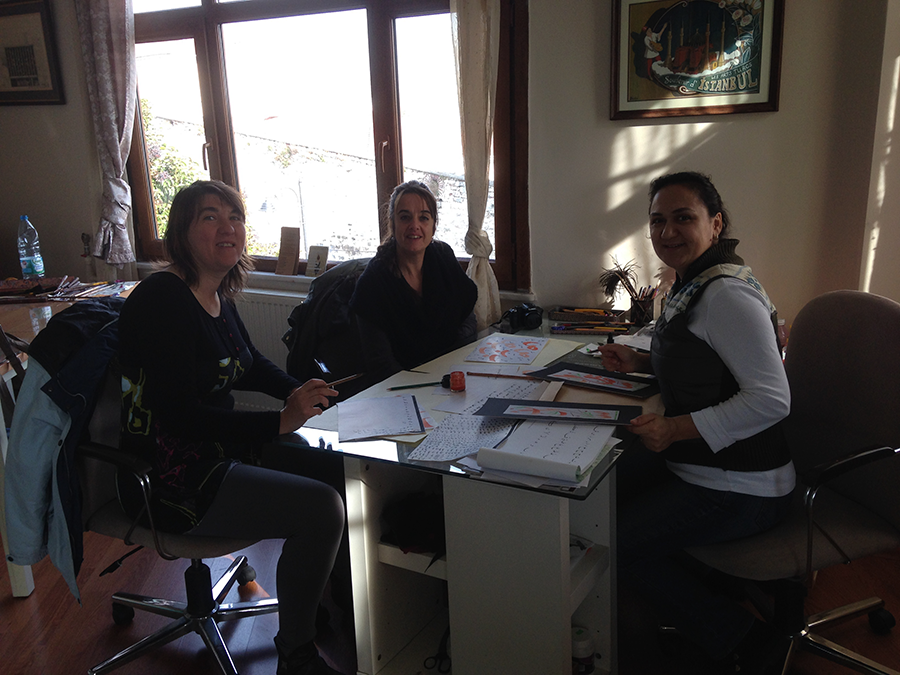 Turkish and Ottoman Style Calligraphy ( Hat ) Lessons in Istanbul.
Ottoman – Turkish Calligraphy, also known as Arabic calligraphy, is the art of writing, and by extension, of bookmaking. This art has most often employed the Arabic script, throughout many languages. Calligraphy is especially revered among Islamic arts since it was the primary means for the preservation of the Qur'an.
Ottoman Turkish calligraphy is associated with geometric Islamic art on the walls and ceilings of mosques as well as on the page. Contemporary artists in the Islamic world draw on the heritage of calligraphy to use calligraphic inscriptions or abstractions in their work.
The first of those to gain popularity was known as the Kufic script, which was angular, made of square and short horizontal strokes, long verticals, and bold, compact circles.
The Diwani script is a cursive style of Arabic calligraphy developed during the reign of the early Ottomans (16th and early 17th centuries). It was invented by Housam Roumi and reached its height of popularity under Süleyman I the Magnificent. As decorative as it was communicative, Diwani was distinguished by the complexity of the line within the letter and the close juxtaposition of the letters within the word.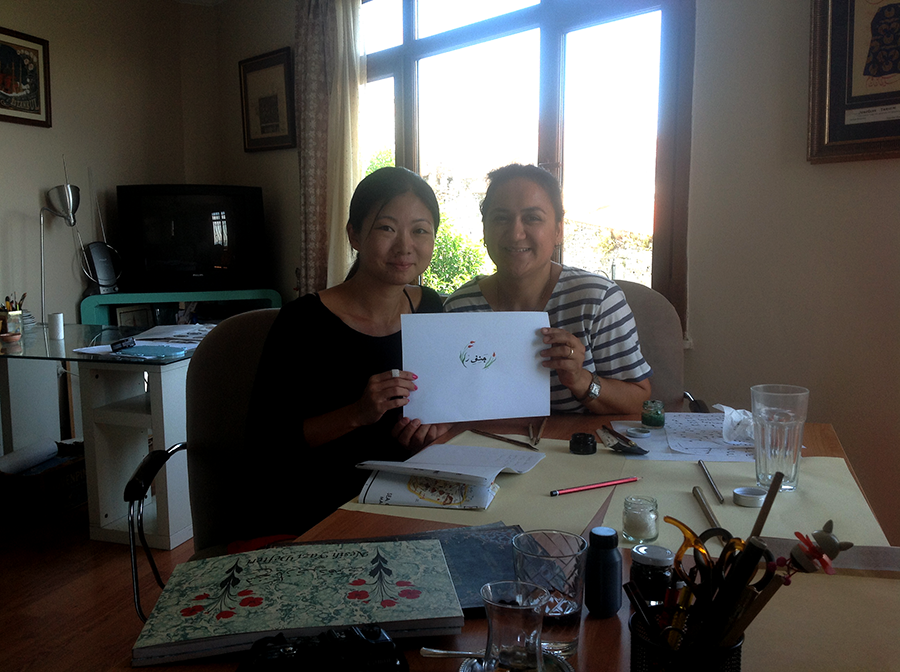 In the teachings of calligraphy figurative imagery is used to help visualize the shape of letters to trace.
The traditional instrument of the Turkish – Ottoman calligrapher is the kalem, a pen made of dried reed or bamboo; the ink is often in color, and chosen such that its intensity can vary greatly, so that the greater strokes of the compositions can be very dynamic in their effect.
In our lessons; we can teach beginner & advanced level Traditional Ottoman Calligraphy & Latin Style Calligraphy in our workshop in istanbul.
** If you have any interest of learning Classical Ottoman Calligraphy, joining a workshop or ordering a special Turkish Calligraphy Work from our teachers Mr. Eftel, Mr. Melih, Mr. Tolga or Ms. Betul can show you the basic and advanced techniques of it. Please call us or send us an E-mail to get more information and to get a meeting..
Contact : Mr. Hakan HACIBEKIROGLU ( Phone : +90 533 738 58 62 )
1,5 Hours Calligraphy Workshop ( Per Person )

2 Guest

50 Euro

3-6 Guest

45 Euro

7 and More Guest

40 Euro

1 Guest

60 Euro

Workshops Include

These are private events and runs upon request.

English Guidance and assistance service.

Workshop area & equipments are included.

1,5 Hours workshop in our Studio.

Tours are made by Senguler Tourism – Istanbul Life ORG
Member of TURSAB Agency Association / A Licence: 4691
Google Map : https://goo.gl/maps/NzHjX2ERP1B2
Contact : Mr Hakan HACIBEKIROGLU
Whatsapp : +905337385862
E-mail : info@istanbulsahabatours.com
E-mail : hakan_hacibekiroglu@yahoo.com ( 24/7 Online )
Facebook : https://www.facebook.com/sahabevisits/
Instagram : https://www.instagram.com/sahabevisits/
TripAdvisor : https://www.tripadvisor.com.tr/Attraction_Review-g293974-d3735660-Reviews-Istanbul_Life_Cultural_Tours_Day_Tours_Senguler_Travel-Istanbul.html
Google Business Site :  http://islamic-tours-in-istanbul-and-turkey.business.site/
History of Turkish Calligraphy
The literal meaning of the Turkish word for calligraphy (hat) is line or way. In essence, Husn-i Hat comprises the beautiful lines inscribed with reed pens on paper using ink made from soot. In the 13th century, Yakut-ul-Mustasimi,a calligraphist from Amasya, made a breakthrough in calligraphy by using nibs of various widths and sizes in one composition. Later calligraphists followed and developed his methods. Later, Sheyh Hamdullah, a famous calligraphist from the period of Sultan Mehmet the Conqueror, introduced major changes in the traditional seven writing styles and put the mark of the Turkish national character on Islamic writing. His followers further improved Turkish calligraphy over the centuries. Hafiz Osman, Mustafa Rakim, Yesari Mehmet, Sevki Efendi, Sefik Bey, Mahmut Celaleddin, Kadiasker Mustafa Izzet, Sultan Mahmut II, Aziz Efendi, Necmettin Efendi, Sami Efendi and Hamid Aytac are all noted Turkish calligraphists who contributed to the development of this art.
Turkish calligraphists have always made the paper, pens and ink they used. The paper used to be painted with natural dyes. Then it was polished with boiled starch and egg white. The paper dressed in this way allowed for easily correcting mistakes. Pens were made of hard reeds. Bigger pens (known as "celi") were made of wood. To produce ink, the calligraphists used to burn materials such as pine and linseed oils.
Islamic Mosque calligraphy is calligraphy that can be found in and out of a mosque, typically in combination with Arabesque motifs. Arabesque is a form of Islamic art known for its repetitive geometric forms creating beautiful decorations. These geometric shapes often include Arabic calligraphy written on walls and ceilings inside and outside of mosques.
The subject of these writings can be derived from different sources in Islam. It can be derived from the written words of the Qur'an or from the oral traditions relating to the words and deeds of Islamic Prophet Muhammad.